13 Mar 2017
Tips To Save Money Traveling (Airfare, Hotels, etc.)
Posted in Frugal Tips, Other Wisdom By Greg On March 13, 2017


The links in this post may contain affiliate links

DINING OUT (FOOD)
Look For Deals
Consider buying a few Restaurant.com Gift Certificates or an Entertainment Book for the area you are traveling to.
Check Groupon for current restaurant deals in the area.
Check for other coupons and discounts by doing a quick Google search.
Pack Lots of Snacks
Pack a lot of snacks (granola bars, nuts, etc.) to have on hand to avoid unnecessary food purchases.
Backpacks, lunchboxes, or a large purse allow you to easily store and transport snacks.
If you're driving to your destination, consider packing a cooler and a portable grill.
Take Advantage of Your Hotel
Many hotels offer a free breakfast for guests – make sure to take advantage of this.
Choose hotels with full or half kitchens so that you can prepare many of your meals right in your room.
Ask hotel employees about any available special deals for certain nearby restaurants or if they can recommend any affordable options

HOTELS
Location
The most popular areas of any city (i.e. heart of downtown) will always be more expensive.
By staying just a few miles away from major tourist areas, you can usually save a good amount of money.
*One caveat to this is that staying further away does add time and potential travel costs such as transportation fares and parking.  Be sure to research nearby public transportation and see if anything is in walking distance*
Timing
Timing is critical to getting a good deal.  The cost of a hotel stay can vary dramatically from one week to the next, depending on many factors.
If you have a flexible schedule, consider staying at a hotel during the off-season.

Less demand = lower prices
As a bonus, this will also mean less crowds for you to deal with

Even staying in a hotel during the week instead of during a weekend can usually save you money.
Sunday usually has the lowest occupancy rate which might mean lower rates.
Book Early
Many hotels offer special promotions if you book months, weeks or sometimes just 10-days in advance.
Not only will you be able to get the best price, you'll also secure your room before they sell out.
Hotel Alternatives
A few potential alternatives to hotels include the following:
Airbnb – rent a house
Hostels – good for younger travels; many even have private rooms
Join Rewards Programs
Many hotels, especially hotel chains, offer free rewards programs.
You can earn points by booking hotel rooms that can get you rewards such as free hotel stays, upgrades, etc.
Be sure to check out a website called Rocketmiles. This website allows you to book hotels all over the world and earn Amazon Gift Cards back — up to $100 per night! You can even book for other people and still earn gift cards.
 Resources
Hotwire – Save up to 60% on hotels
Tingo – Offers automatic refunds when a room rate drops
Hotel Tonight – Get amazing last-minute deals. Book wherever, whenever on your mobile device for tonight, tomorrow and next week.
Hotels.com – Instant savings up to 50% off with special prices on their app
After you find a good deal, make sure to compare it to the price on the hotel's main website

FLIGHTS
The bottom line: Book your flight early and not on a Friday. Be as flexible as possible as to when you fly.   Also, make sure to use different online tools to find the best flight prices.
Booking Date  + Day of the Week

When you book your ticket can have a huge effect on your fare.
Book as early as possible.

Booking your ticket roughly two months (47-57 days) ahead of the departure date is recommended for domestic flights.

Research has shown that searching for flights at midnight on Tuesdays can save you 6% or more.

The overall best day to book? Sunday, followed closely by Saturday.
The worst day to book? Research has shown that Fridays are the worst day to buy flights (13% pricier on average). This is due to sales expiring and cheap seats selling out by the time Friday rolls around.
Flying Time of Year + Day of the Week
Like everything else, it is a matter of supply and demand.
July and December are two of the costliest months to fly (~30% more compared to April and February).
August 22 is been known to be the day each year when average U.S. domestic fares get cheaper
Avoid flying on a Sunday if possible (you are likely to pay ~10% more compared to a Tuesday, for example).

Tuesday, Wednesday, and Thursday are best
Misc
It's best to not check a bag at all and just take a carry-on with you.  Avoid costly airline baggage fees when possible.

Booking a flight with at least one layover can save you $100 or more.
Flight Resources / Tools
Google Flights – One of the most useful tools for finding cheap flights. This tool gives you the flexibility to check a variety of dates, times and destinations. It also shows you all of the carriers that serve the route you're flying.

Hopper – Predicts whether fares on a certain route will go up or down and alerts you when your ticket price has dropped to its likely cheapest point.  Hopper claims to save a typical user around $50 per flight.
Momondo – Helps you find and compare fares from 700+ travel sites, giving you access to the best rates for airline tickets online.
Airfare Watchdog – Monitors airline websites for deals and sends you email alerts regarding them.
Kayak – A aggregator that pulls together fares from a number of travel sites.  They will email you daily or weekly when the price drops.
Travelocity – Another fare aggregator that will send you an email when airfare to your destination drops below the amount you've set the alert for.
Make sure to search for flights multiple times and over multiple days, both with and without the cookies cleared from your browser.
OTHER TIPS
Bundle
Look for travel packages. You can considerably lower the price of your hotel stay by buying a vacation package. Get your flight, rental car and hotel reservation all at once through websites like Expedia or Travelocity, saving you hundreds of dollars.
Use Credit Card Points for Flights, Hotels and Cars
Be sure to check out the travel discounts and rewards associated with your credit card.

Several credit cards offer rewards like free flights, discounted hotel stays and more.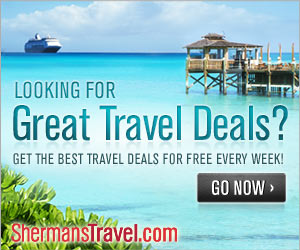 About Author
Greg